Stanced VW Golf MK5 With a Thunder Bunny Body Kit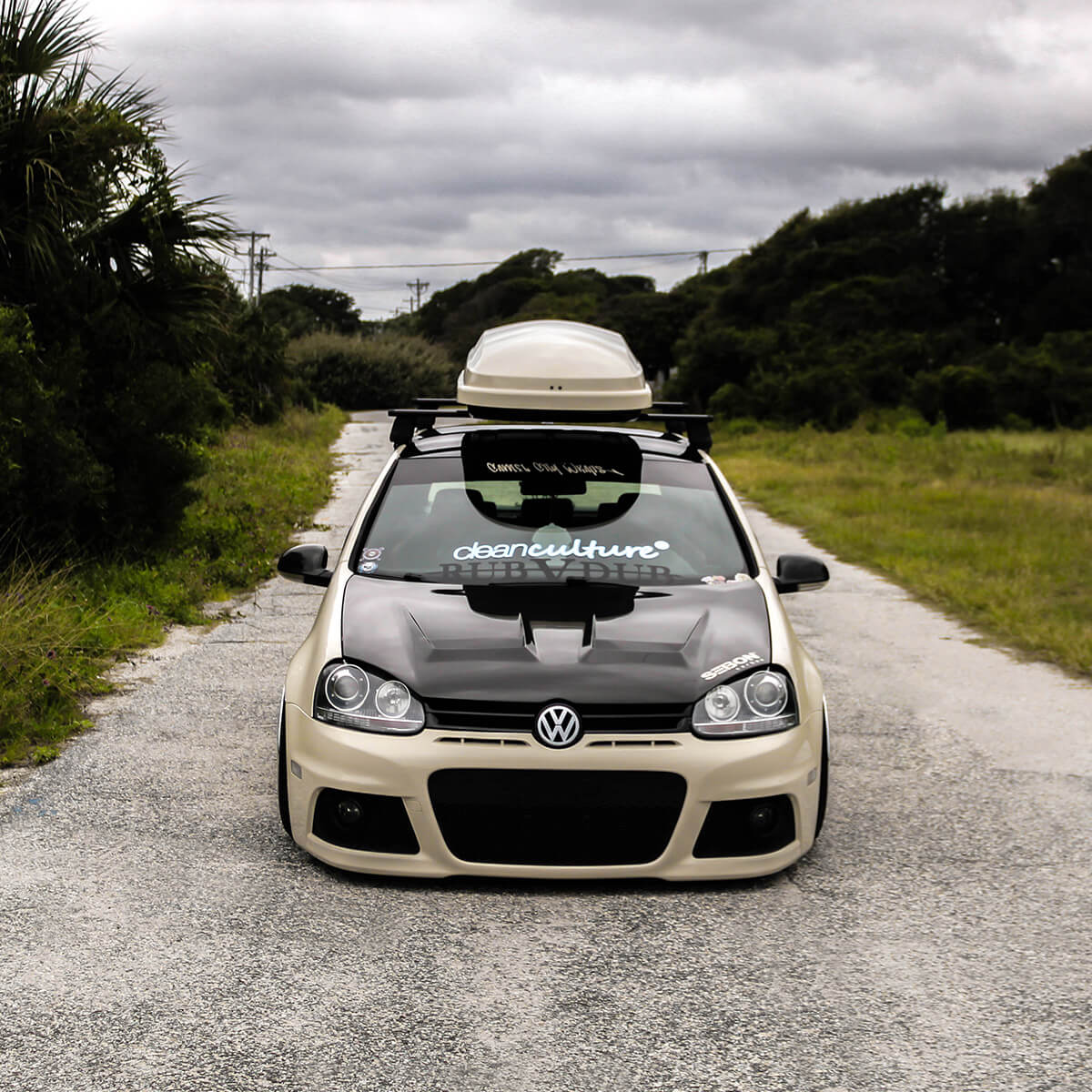 Volkswagen Golf is hands down one of the most popular European cars that remains in production since the 70s. In some markets like Germany and Austria, it belongs to the TOP 3 best-selling models year by year and there is a reason for that.
There's definitely something special in the elegant and sporty design of this car. It doesn't have that brutal in-your-face image like its Bavarian compatriots, but its subtle sleeper-like appearance is hiding some truly impressive performance, and clearly says "I could easily beat you up in no time if I wanted to".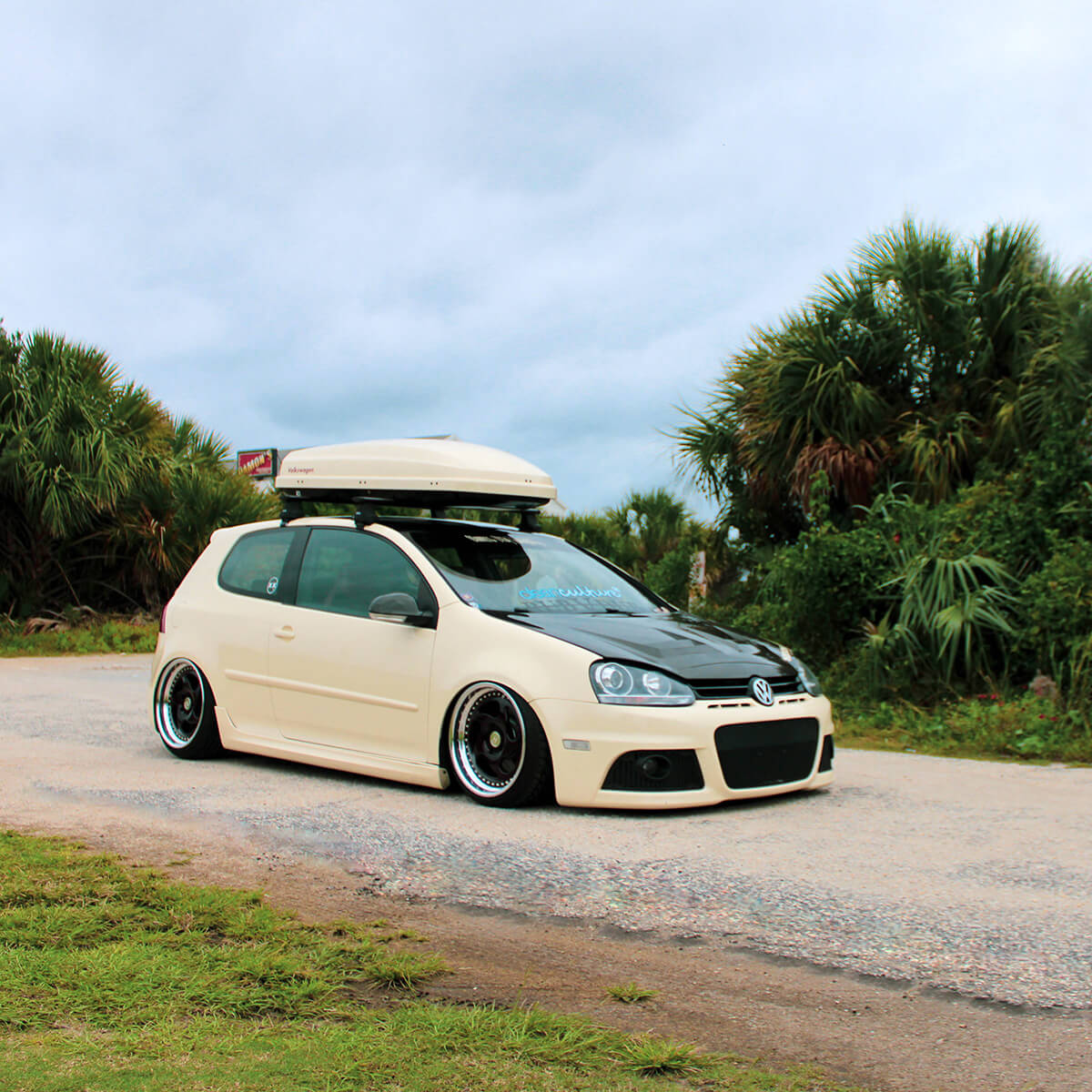 This awesome-looking GTi is owned by Damian from North Carolina, who decided to highlight the performance nature of his GTi and give it a more unique low-down stanced appearance. The car features a lot of visual and performance modification and perfectly stands out from the crowd of other stance projects.
"The car features a lot of visual and performance modification and perfectly stands out from the crowd of other stance projects"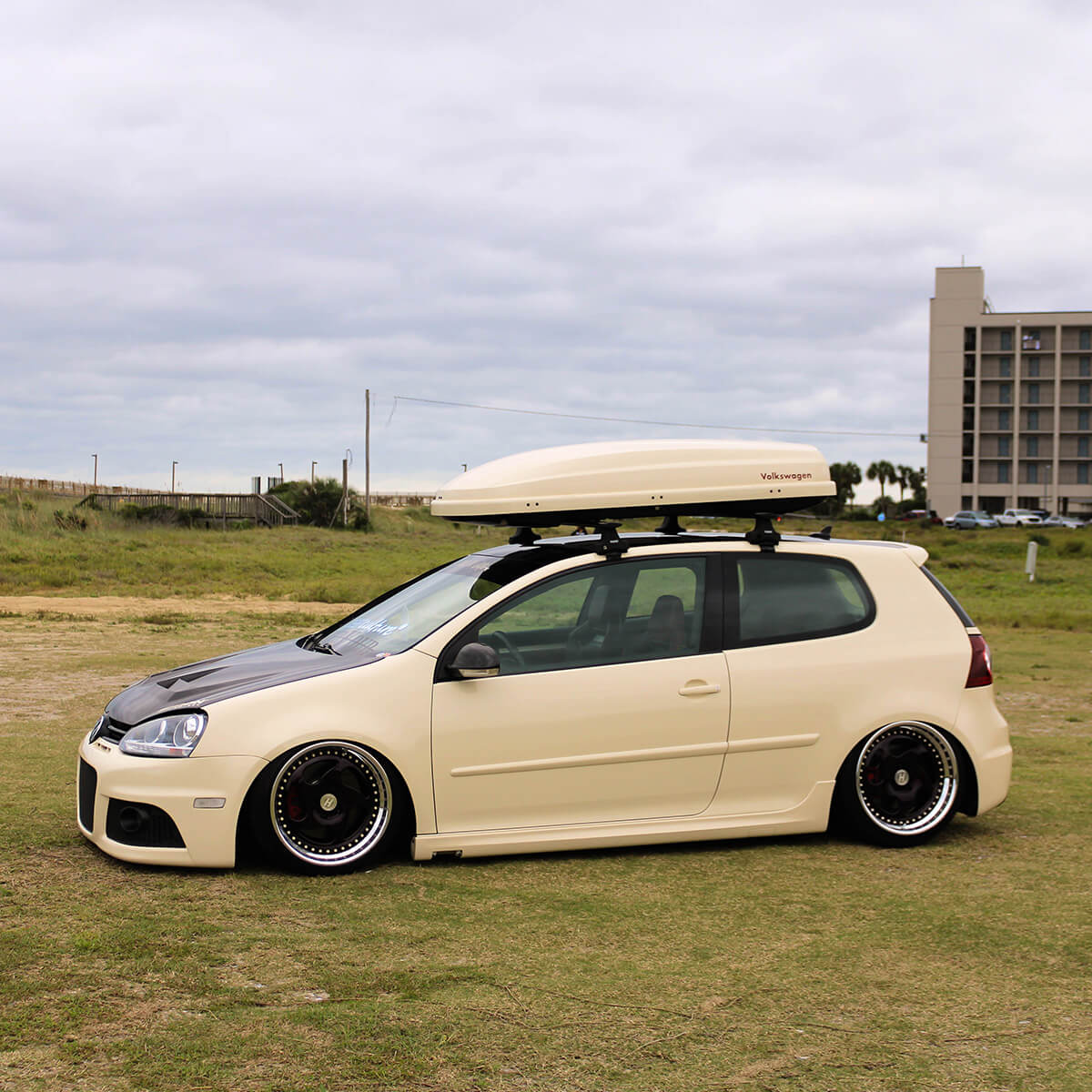 Some of the first things that draw attention to this 3-door rabbit are certainly the original Thunder Bunny body kit and the contrasting black DV Style carbon fiber hood by Seibon Carbon. The car seats low on a set of 3-piece forged Avus wheels and 3P air suspension from Air Lift Performance.
"But this project is not only about looks"
But this project is not only about looks. The performance was enhanced with a help of the Integrated Engineering 3″ catted downpipe, APR stage 1 ECU tune, 42 Draft Designs stealth catch can system, R1 Concept rotors, CTS turbo noise pipe delete, Neuspeed P-flo Cold Air intake, and 2.75″ Cat-back.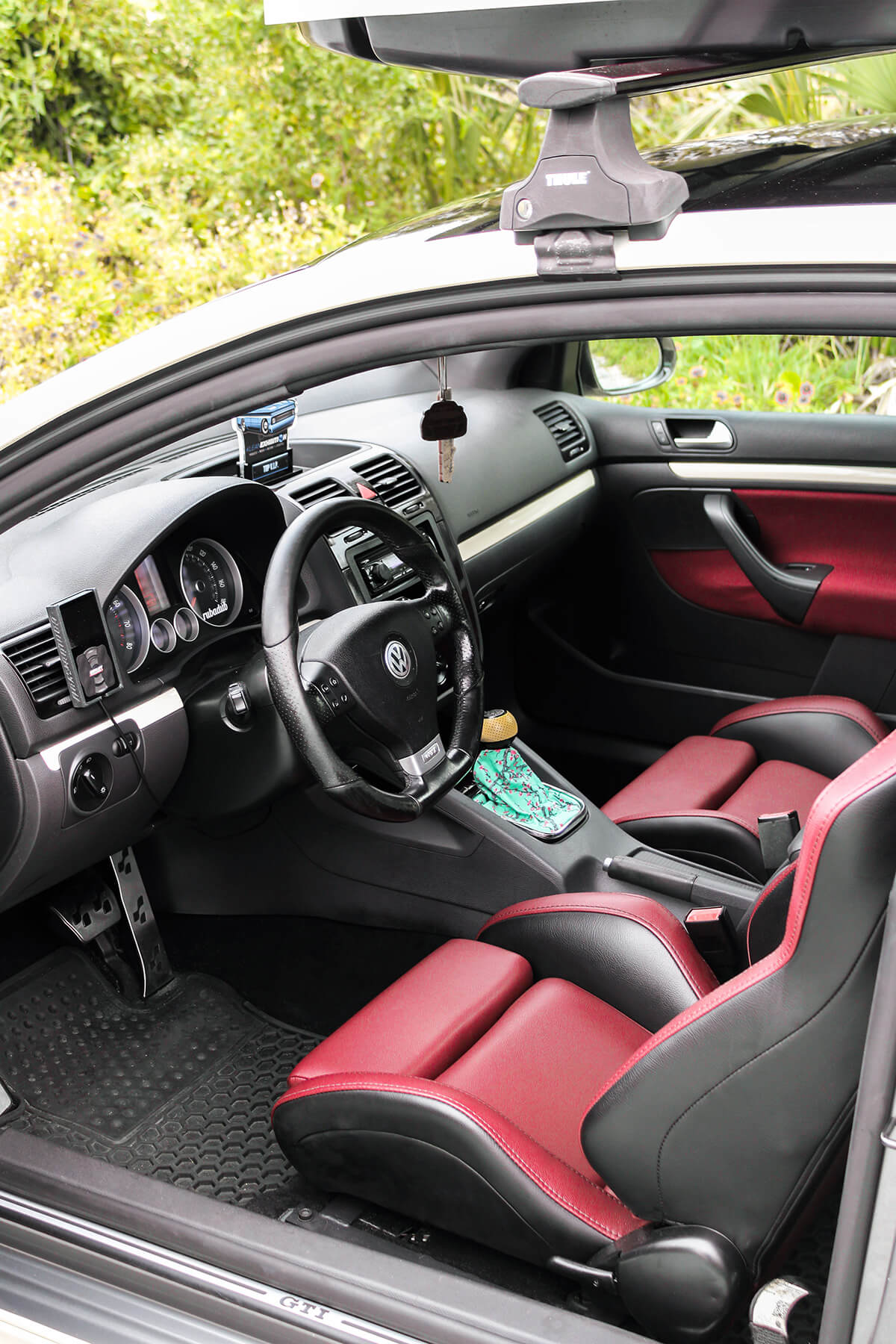 SPECS – VW GOLF MK5
Engine and Performance:
Integrated Engineering 3" catted downpipe
Apr stage 1 ECU tune
42draftdesigns stealth catch can system
R1 Concepts slotted rotors
CTS turbo noise pipe delete
Neuspeed P-flo cold air intake
Neuspeed 2.75" cat-back
Exterior:
Volkswagen OEM Thunder Bunny body kit:
– Thunder Bunny front bumper
– Thunder Bunny side skirts
– Thunder Bunny rear bumper
Valeo Euro tail lights
Seibon Carbon DV style carbon fiber hood
Avus 3pc wheels
Airlift Performance 3P air suspension
Urotuning carbon fiber mirror covers
Thule aeroblade roof racks
Atlas roof box
Teckwrap Ivory Cream wrap
Camel City Wraps install
Interior:
Corbeau RRX seats
Blackforestindustries DSG shift knob
Graveyard Shiftboots Arizona shift boot
Chobester trunk setup and powdercoat
DIY Upholstery
R32 pedals
R36 dead pedal
Euro cup holder
Dash tray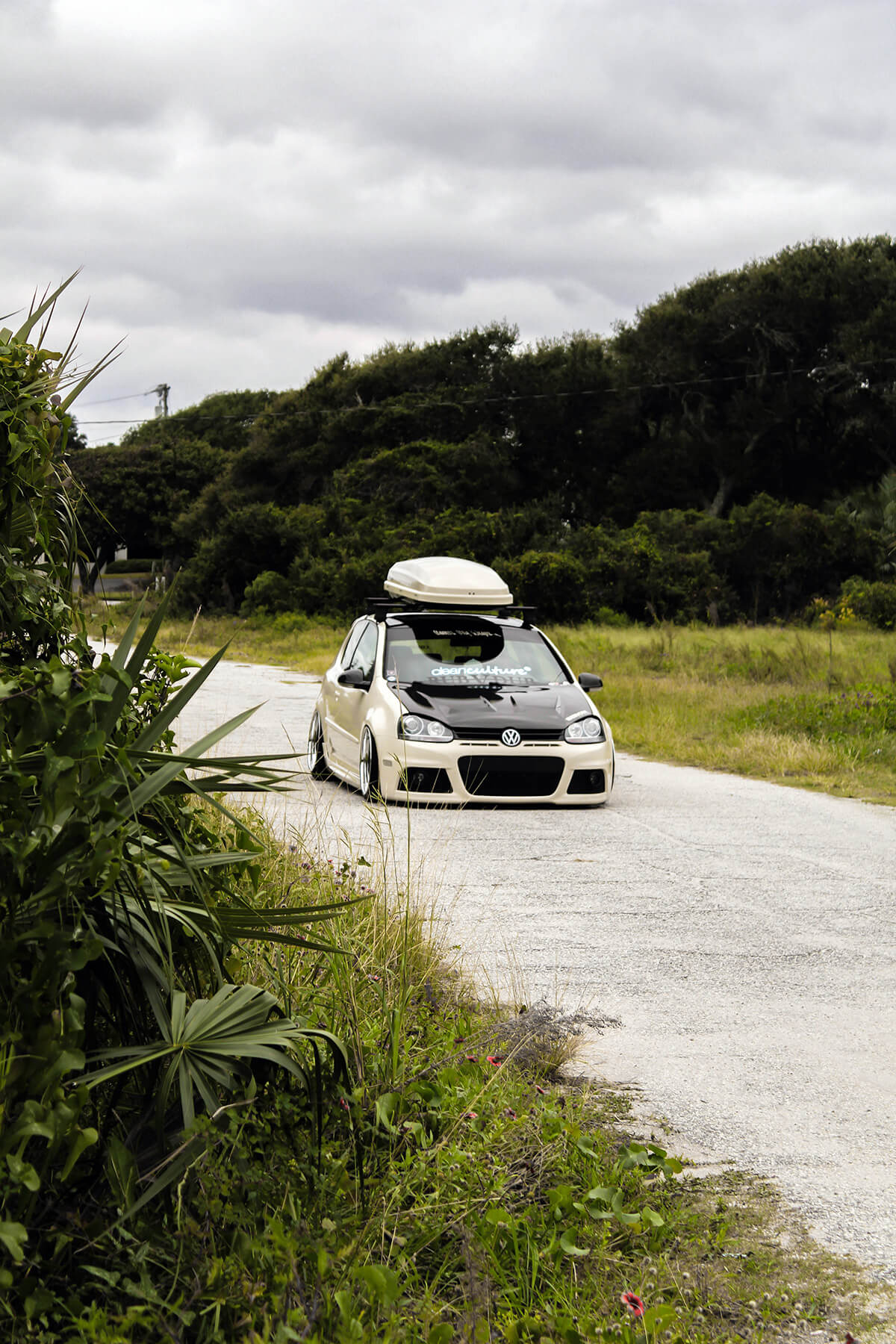 The Interview
Why did you choose MK5 Golf for your project?
– Growing up there was a guy in my neighborhood with a modified Volkswagen Golf mk5. I always liked the GTI platform and seeing that made me want to build a mk5.
What do you love the most about your car?
– I never let clout chasing or trends influence my styling choices for my build. I've built this solely because I like the way it looks and I've been able to bring my vision to life. That's probably what I love most about it.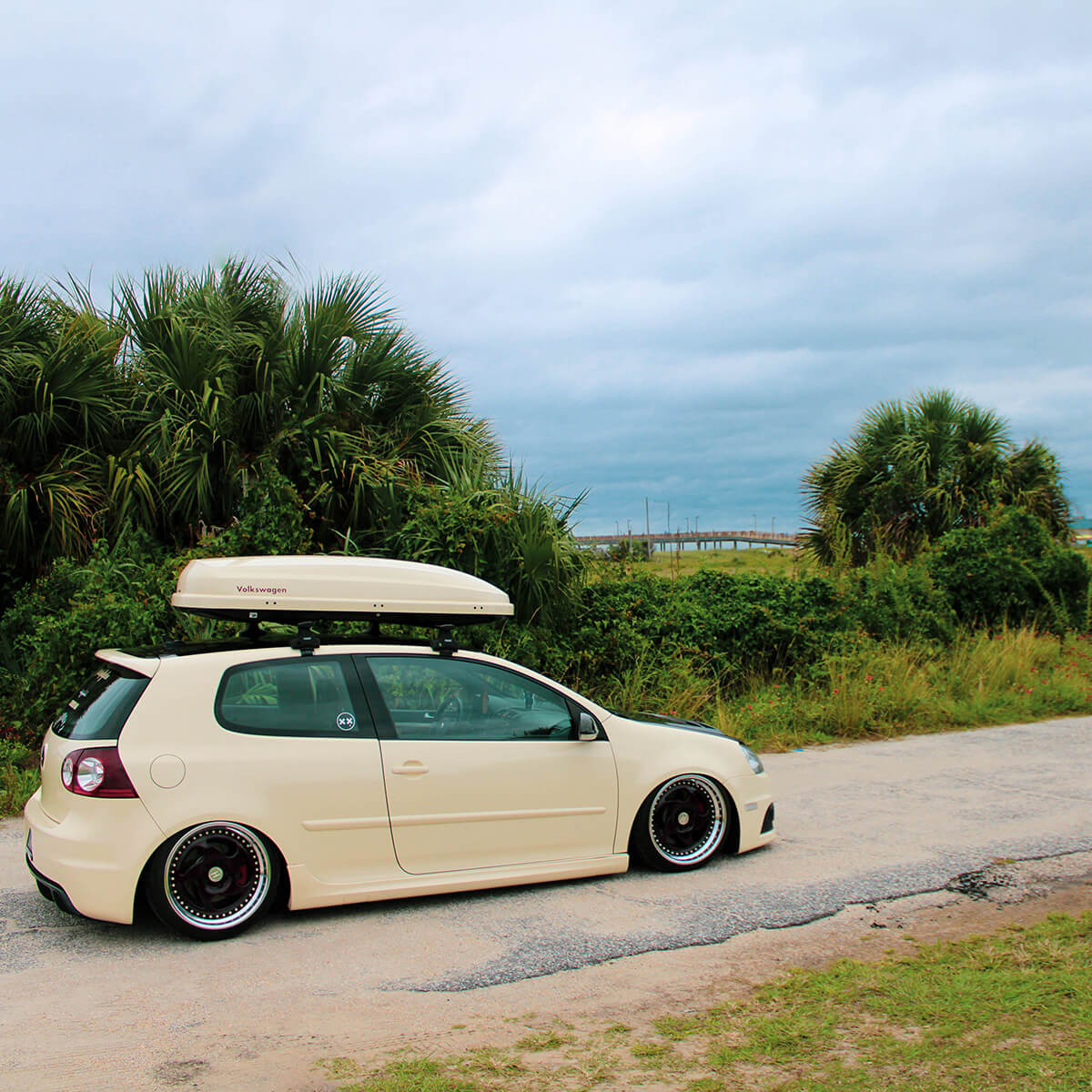 What inspired you to choose this modification style?
– Initially, I was planning on doing more of a track setup. After going to Tuner Evolution for the first time and seeing all the cars there, I decided that I wanted to go for a stanced setup. This was also influenced by the mk5 in my neighborhood.
What challenges did you face while putting it together?
– I'd say my main challenges have been a lack of knowledge and money honestly. I've had to learn everything as I went along. I didn't grow up in a family that worked on cars so jumping into this was definitely a learning curve. A lot of studying YouTube videos and trial and error. Thankfully, through this process I've made a few friends that actually know what they're doing and have been willing to help.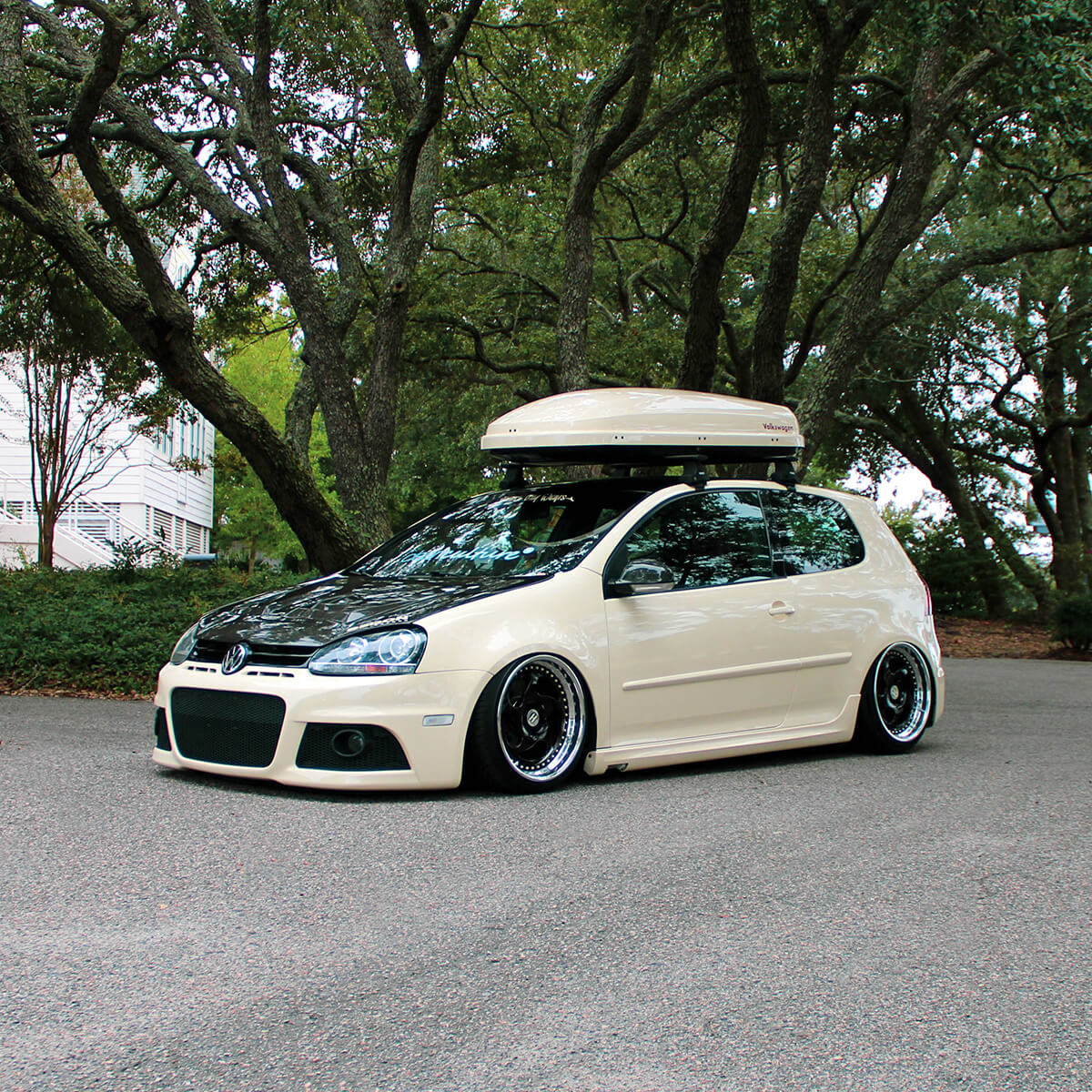 What is your favorite mod?
– Probably my Thunder Bunny kit. It gets a lot of attention from people that know what it is and I really like the styling and rarity of it.
What are your future plans for the car?
– Right now, the plan is to start building and cleaning up the engine bay. I plan on doing a few power mods. Other than that, it's mostly finishing what I started. I plan on getting an actual trunk setup together and getting a few more interior bits to tie that all up.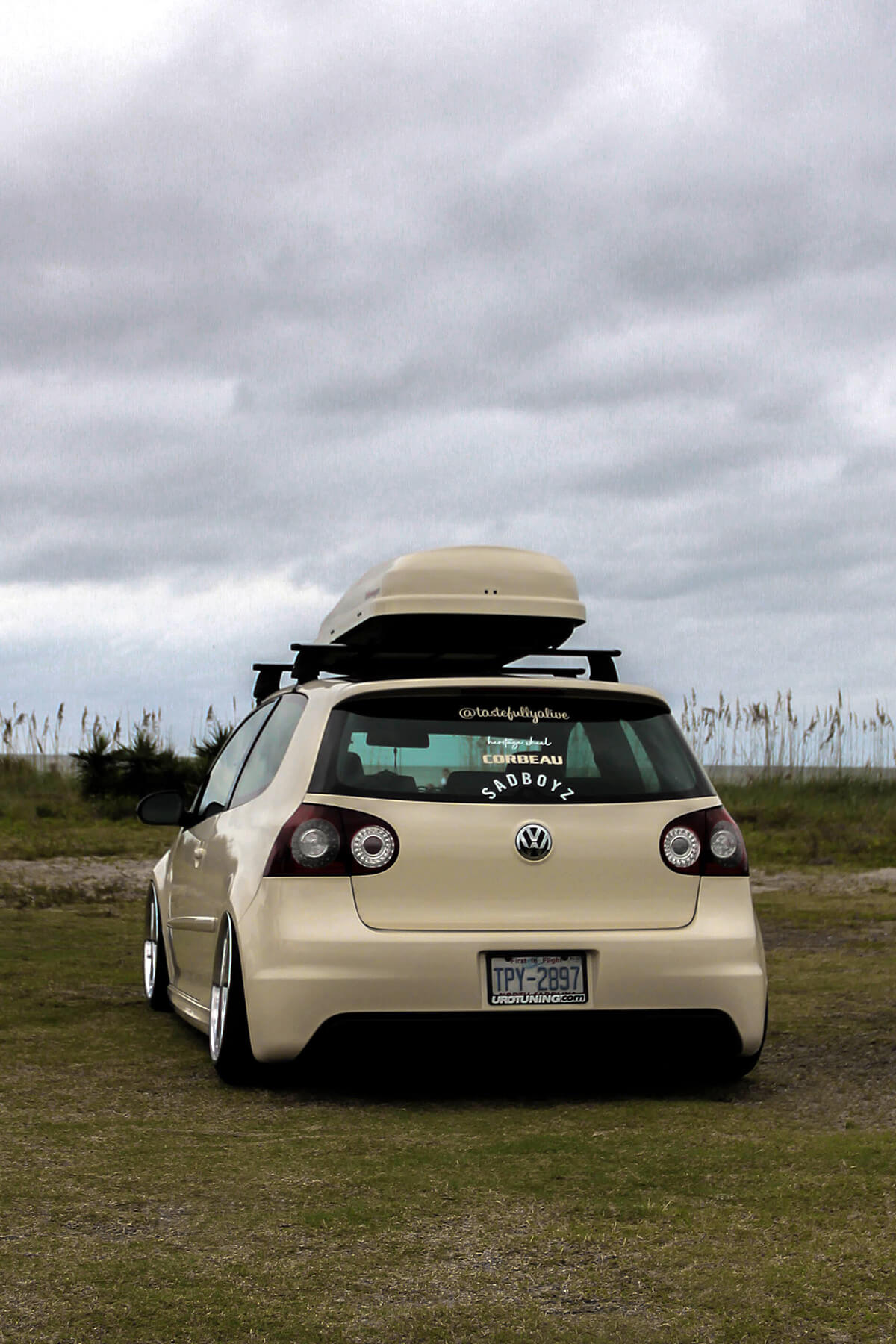 Watch the progress and find out more about this stanced Volkswagen Golf MK5 by visiting the Instagram profile of the owner: @tastefullyalive!
Stay tuned for more project reviews on Eurolism.com – Follow us on social media, and share this write-up if you enjoyed reading it!
Photography by @tstfl.media
Matt Grabli
Matt is an automotive writer and journalist with more than 10 years of experience in the field of aftermarket modifications. He enjoys the diversity of the modern European car culture and appreciates it in every aspect.